Relive the final day of the second Ashes Test at Lord's
England ran out of time in their bid to beat Australia and level the series.
England v Australia
The second Ashes Test at Lord's was drawn
Australia held on at 154 for six
Steve Smith was ruled out with delayed concussion
Substitute Marnus Labuschagne hit 59
Jofra Archer and Jack Leach each took three wickets
Ben Stokes made 115 not out
England declared with a 266-run lead
Post-match presentation
England skipper Root said: "You can't control the weather. Most importantly we had to get ourselves to a score where we felt in control of the game. Ben (Stokes) played exceptionally well, and then we threw everything we had at them. Fair play to Australia, they played well. It was important we bounced back strong after Edgbaston. We proved we're in this series, and we'll take that momentum into the rest of this series."
Australia captain Paine said: "It was really pleasing to see [Labuschagne] do that – to get 150ks in the face and then stand up was really pleasing. We've seen Jofra in Australia for a few years, we know the package he brings to the table. It's up to us as a team to formulate some plans."
Man of the match Stokes said: "It was nice to get a hundred. We fought incredibly hard there towards the end. Fair play to Australia for holding out. That's why it's the best form to play – ups and downs emotionally throughout five days, but it's the pinnacle of any cricketer's ambition. Lord's always seems to produce great games and we've seen another one."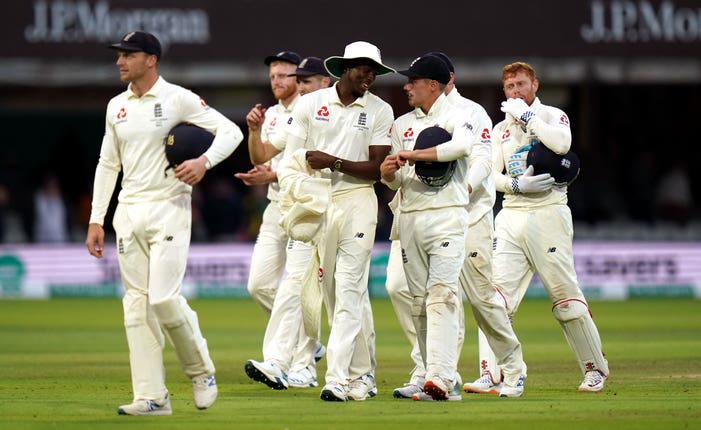 England ran out of time in the end (John Walton/PA)
48th over AUS 154-6. MATCH DRAWN.
The players shake hands and Australia hold on to stay 1-0 ahead in the series moving on to Headingley next week. The last couple of days of drama, including the battle between Smith and Archer, has lit up the series.
47th over AUS 154-6. ENG need another four wickets
Denly is back and he keeps putting doubt in Head's mind by throwing the ball up outside off. Yet he holds firm and there are just six balls remaining.
46th over AUS 154-6. ENG need another four wickets
Cummins pushes forward at Leach and Burns, who is close to the wicket at silly-point, almost holds on. That was a hard chance. The right-hander then fails to play a shot and is hit on the pad, with Root sending the not-out decision upstairs. But the ball was missing off-stump. Australia are almost home.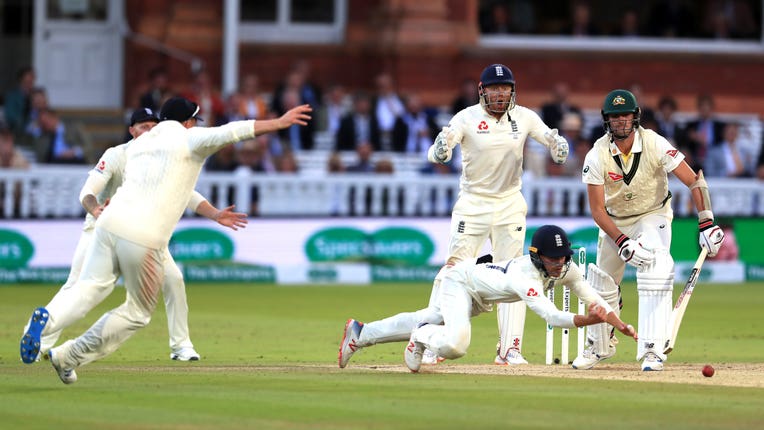 Rory Burns almost caught Pat Cummins at silly-point (Mike Egerton/PA)
45th over AUS 154-6. ENG need another four wickets
With the light fading, the umpires tell Root that Archer is too quick to continue. Leg-spinner Denly is handed the ball. He is on the money straight away but Head survives.
44th over AUS 154-6. ENG need another four wickets
Cummins sees off a Leach over to leave four remaining. Can England do it?
43rd over AUS 154-6. ENG need another four wickets
Pat Cummins turns Archer just short of Stokes at leg-slip as the drama continues at Lord's. Head fends off another vicious short ball. This is fantastic Test match cricket.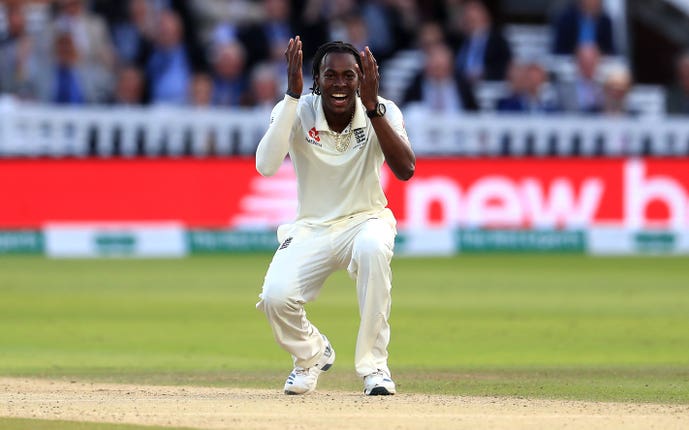 Archer gave Australia a torrid time (Mike Egerton/PA)
42nd over AUS 153-6. ENG need another four wickets
Head drives Leach for four to relieve a little bit of tension. But the bowler continues to trouble the left-hander.
41st over AUS 149-6. ENG need another four wickets
WICKET Paine c Denly b Archer 4
Archer sends another flying past Paine's nose and over Bairstow's head for four byes. He is still charging in giving his all. Paine cannot resist a pull shot and Denly pulls off a stunning diving catch at midwicket. That was sensational. Four wickets needed in seven overs.
40th over AUS 144-5. ENG need another five wickets
Head flicks Leach to backward square, bringing Paine back into the firing line. The skipper drives down the ground for four, punishing Leach for over-pitching.
39th over AUS 139-5. ENG need another five wickets
Archer hits Paine on the glove but the ball lands safe. The Australia captain then opts to leave a ball that just whistles past his off-stump. Indecision. The crowd are back in this.
38th over AUS 138-5. ENG need another five wickets
WICKET Wade c Buttler b Leach 1
Wade gloves Leach to Buttler at short-leg and the spinner is on a hat-trick! Tim Paine defends, seeing out the rest of the over. Do we have a game on again? Ten overs left.
37th over AUS 138-4, need another 129
Head turns Archer off his hip for a single, bringing Matthew Wade on strike. Archer pings him on the helmet and the ball flies over the wicketkeeper for four. Another helmet check needed.
36th over AUS 132-4, need another 135
WICKET Labuschagne c Root b Leach 59
Labuschagne is starting to enjoy himself now, dancing down the pitch to drive Leach for four and then two. A reverse-sweep also brings a couple. But the right-hander's dangerous ploy of sweeping Leach out of the rough ends up with him scooping a chance to a diving Root at midwicket, with replays needed to confirm the catch.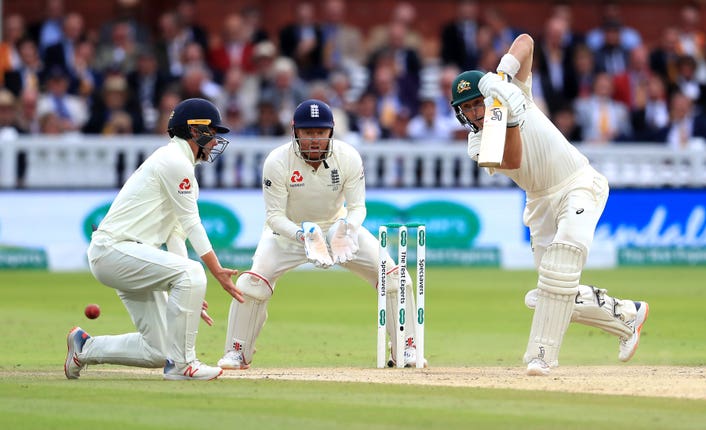 Labuschagne produced a fine innings (Mike Egerton/PA)
35th over AUS 124-3, need another 143
Root's experiment lasts just one over as Archer returns. The final throw of the dice? Labuschagne sees off another over with fine judgement outside his off stump and a solid defence.
34th over AUS 123-3, need another 144
Umpire Aleem Dar signals that this is the last hour. Minimum of fifteen overs left. Labuschagne sweeps a Leach full-toss for four and then takes a single to move to a fine half-century. What a day for the 25-year-old! He has played his way into the Australia side for next week's Headingley Test.
33rd over AUS 118-3, need another 149
Leach produces a fine diving stop to save a run as Labuschagne cuts Root, who brings himself into the attack, for three. Head does the same, this time reaching the rope, before four dot-balls end the over. Drinks.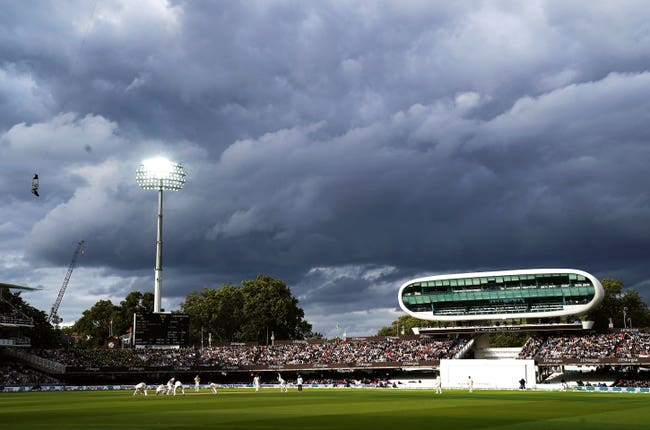 The light was fading at Lord's (John Walton/PA)
32nd over AUS 111-3, need another 156
Things seem a bit flat at Lord's now as Labuschagne and Head continue to keep England at bay. Leach almost sneaks a low delivery through Head's defences. Just a leg-bye comes from the over.
31st over AUS 110-3, need another 157
Head plays out a maiden to Stokes. The fourth-wicket stand is now worth 63. Vital.
30th over AUS 110-3, need another 157
Labuschagne sweeps Leach out of the rough and it races for four. Leach responds by spinning one past the outside edge. Time is running out for the hosts.
Joe Root needed wickets (Mike Egerton/PA)
29th over AUS 104-3, need another 163
A big chance gone for England! Jason Roy drops Head off Stokes at second slip. That was a simple one. Joe Denly then lets one slip through him and it goes for four. Head then drives a full ball to the rope. A frustrating over.
28th over AUS 96-3, need another 171
Root continues to make changes, giving Leach another go. The left-armer tempts Labuschagne into playing and missing before almost beating his defence with one that keeps low.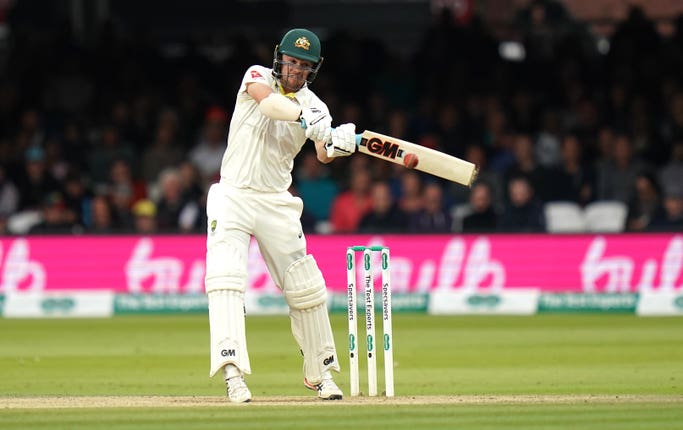 Head punished the bad balls (John Walton/PA)
27th over AUS 96-3, need another 171
Head greets second-innings centurion Stokes into the attack by slashing him to the boundary. The crowd go up for lbw against Head, but Stokes knows the batsman got a little inside-edge. Close. A defensive push then goes for four. Twenty one overs remain.
26th over AUS 88-3, need another 179
Woakes pins Labuschagne on the crease but the finger stays down. Root calls for a review which does not overturn the decision. Too high and outside the line. The right-hander then punishes a wide delivery, cutting for four.
25th over AUS 84-3, need another 183
Head tickles a wayward Broad delivery fine for four. England need another spark from somewhere if they are to rattle Australia again.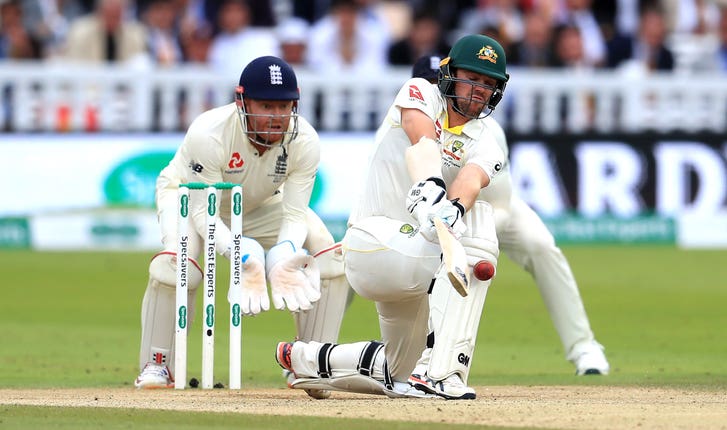 Travis Head was earlier looking to sweep against Leach (Mike Egerton/PA)
24th over AUS 80-3, need another 187
Root turns to pace at both ends, bringing Woakes on for Leach. Head does not know whether to play or leave and squirts a single through the cordon. Three come from the over.
23rd over AUS 77-3, need another 190
Labuschagne and Head see off Archer as Broad returns to the attack. Has he got one of his magic spells in him this afternoon? Not yet. Labuschagne leaves a couple and then drives a full ball to the rope.
22nd over AUS 73-3, need another 194
Head drives Leach through the covers for four. Australia have steadied the ship. There are 26 overs left.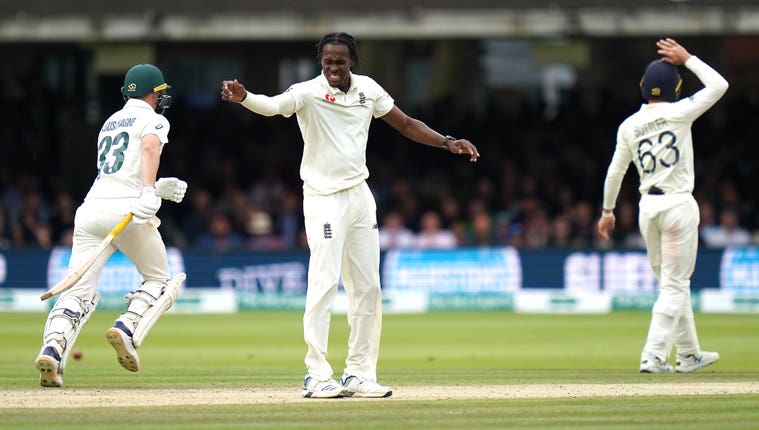 Archer caused problems with his pace (John Walton/PA)
21st over AUS 69-3, need another 198
Root calls for more pads to be brought onto the field and Burns heads to silly-point for Archer. England are on the attack. Labuschagne tries to uppercut a short delivery and almost feathers behind. Archer then comes round the wicket and Labuschagne responds by tucking a single into the leg side. Head flicks to the square-leg rope.
20th over AUS 63-3, need another 204
Leach is bowling round the wicket to Labuschagne, who is defending well. Just a single off the over.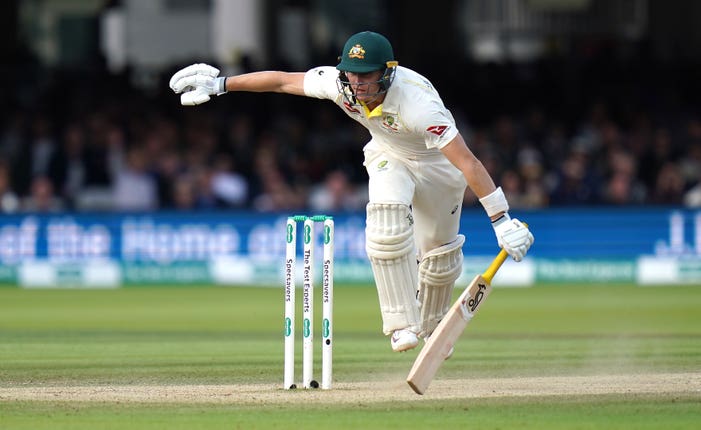 Labuschagne took a quick single (John Walton/PA)
19th over AUS 62-3, need another 205
This is brilliant Test cricket as sheer pace and spin works in tandem. Labuschagne is giving a good account of himself after he was rushed in to replace Smith. He looks comfortable now.
18th over AUS 59-3, need another 208
Leach continues to target the rough and is troubling the batsmen. Labuschagne defends well and collects a single into the leg side.
17th over AUS 58-3, need another 209
Archer is too good for Labuschagne outside off stump yet again. Australia are gifted four extra runs after a Rory Burns throw beats Broad backing up after the batsmen went through for a quick single.
40
The amount of balls Cameron Bancroft occupied the crease for
16th over AUS 53-3, need another 214
Leach is causing problems bowling into the rough at left-hander Travis Head, who is looking to sweep at every opportunity. He is almost bowled as he changes his mind mid-stroke.
15th over AUS 49-3, need another 218
Labuschagne pushes Archer into the off side for a couple, then leaves well. He looks composed.
Jack Leach struck in the first over after tea (Mike Egerton/PA)
14th over AUS 47-3, need another 220
WICKET Bancroft lbw Leach 16
Leach starts after tea and pins Bancroft in front with a delivery which keeps low.
13th over AUS 46-2, need another 221
TEA
There is time for one more over before tea. After getting hit on the hand, Labuschagne guides through gully for three. The crowd then go wild as the ball loops up to Stokes at leg slip, but it comes off Bancroft's thigh pad rather than his bat. There are still 34 overs left in the final session for England to take eight wickets and level the series.
12th over AUS 43-2, need another 224
With tea just five minutes away, England skipper Joe Root brings left-arm spinner Jack Leach into the attack. He gets one to rip out of a foothole which just misses Labuschagne's bat.
11th over AUS 42-2, need another 225
Just a change of ends for Archer and he immediately beats Bancroft's outside edge in a maiden over. The opening batsman is holding firm, though.
Cameron Bancroft evades a bouncer (John Walton/PA)
10th over AUS 42-2, need another 225
Archer takes a rest and Chris Woakes comes into the attack. Labuschagne takes advantage of a half-volley and picks up his third four.
9th over AUS 38-2, need another 229
Broad finds Bancroft's inside edge but the ball flies over short-leg.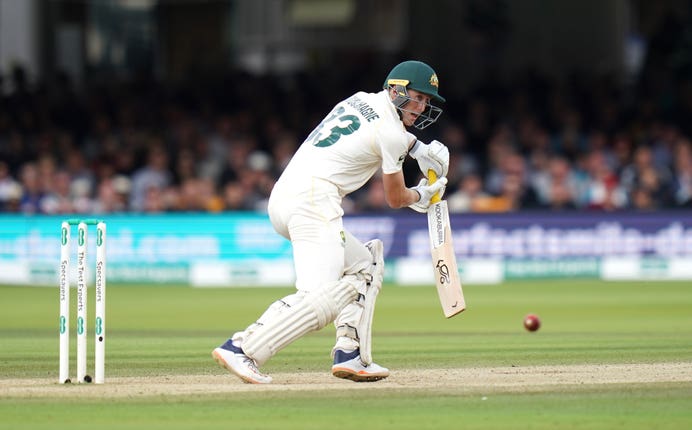 Marnus Labuschagne had an eventful start to his Ashes debut (John Walton/PA)
8th over AUS 36-2, need another 231
Archer beats the outside edge of Labuschagne, who then drives for four. The bowler responds by whistling one past the face of the right-hander.
7th over AUS 28-2, need another 239
Bancroft drives Broad for a couple and then flicks behind square in the air. Labuschagne gets off the mark with a nervous defensive prod into the leg side before a glance from Bancroft just beats a diving Stokes at leg slip. It's all happening!
Archer also sent Usman Khawaja back to the pavilion (John Walton/PA)
6th over AUS 20-2, need another 247
WICKET Khawaja c Bairstow b Archer 2
Archer strikes again! Game on! The paceman produces a wonderful delivery that catches Khawaja's edge and flies through to Bairstow. In walks Steve Smith's concussion substitute, Marnus Labuschagne, who is pinned on the helmet second ball with a brutal 91.6mph delivery. He requires a new helmet and a concussion check from the doctor. Welcome to the Ashes!
5th over AUS 17-1, need another 250
Another edge, this time from Bancroft off Broad, falls just short of the cordon. The right-hander then takes advantage of a full delivery on his legs and flicks to the boundary.
4th over AUS 13-1, need another 254
WICKET Warner c Burns b Archer 5
But Warner is sent back to the pavilion in the next over, after an outside edge to the gully finds Rory Burns, who stoops to make a low catch.
Great start for England.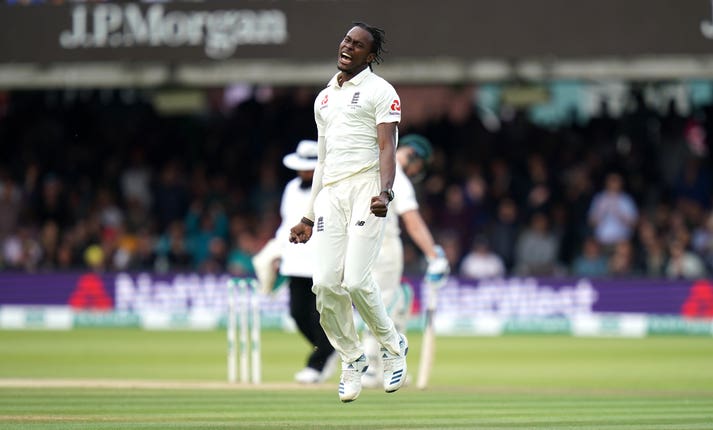 Archer struck early for England, removing David Warner (John Walton/PA)
3rd over AUS 12-0, need another 255
Four leg byes to open the over before Warner and Bancroft add a single apiece.
Warner's attacking approach almost cost him when he  swung at – and missed – a Broad bouncer.
2nd over AUS 6-0, need another 261
Archer makes a solid start and, with the exception of a no ball from his third delivery, concedes no runs to Bancroft.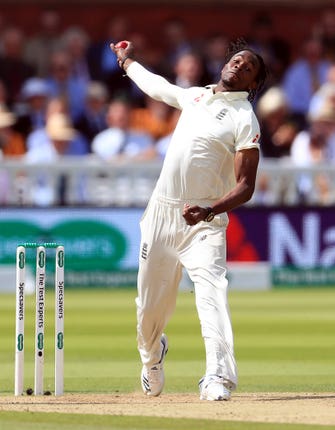 Jofra Archer and Stuart Broad opened the bowling for England (Mike Egerton/PA)
1st over AUS 5-0, need another 262
Warner and Cameron Bancroft came out to bat for Australia and the former hit Stuart Broad's second delivery to the cover boundary for four.
15.35
A reminder that Steve Smith is not playing today due to concussion after he was hit in the neck by a Jofra Archer delivery on Saturday.
"I woke up feeling a little bit groggy and with a headache again, I had some tests done and upon further assessment it was deemed to be a mild concussion unfortunately," Smith told Cricket Australia.
"The results changed slightly, they declined a little bit. With the tests I've done and how I've woken up, it's the right decision.
"I'd love to be out there trying to keep performing and trying to help Australia to win another Test match but the right decision has been made and I'll be monitored very closely for the next few days."
Smith added that he hopes to be available for the third Test at Headingley.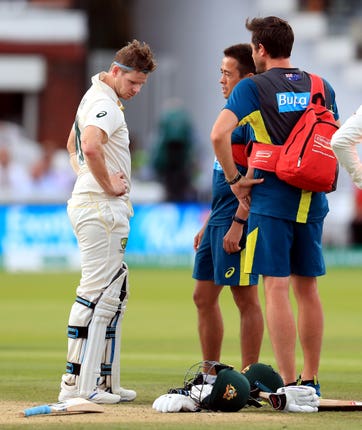 Steve Smith did not play on Sunday (Mike Egerton/PA)
ENGLAND DECLARE
71st over ENG 258-5d, lead by 266
Stokes smashes a further 15 runs and Bairstow adds a single before Joe Root calls them back to the pavilion.
We have 48 overs remaining in the match if either of these teams are to prevent a draw.
70th over ENG 242-5, lead by 250
Stokes gets his century
Stokes gets the single that takes him to three figures off 160 deliveries, before Bairstow smashes Lyon over deep midwicket for a six.
The over also sees Lyon surpass 100 runs conceded in the innings without taking a wicket.
69th over ENG 235-5, lead by 243
We've seen some signals from the balcony which may indicate that a declaration could be close.
Stokes ends the 69th over on 99 after adding a single.
68th over ENG 232-5, lead by 240
Stokes adds seven for the over off the bowling of Hazlewood to move within two of his century.
67th over ENG 224-5, lead by 232
England will be pondering how long to leave a declaration if they have designs on pushing for victory here.
A Bairstow boundary and four leg byes add eight to their total.
Jonny Bairstow and Ben Stokes have upped the pace for England (John Walton/PA)
66th over ENG 215-5, lead by 223
Hazlewood takes over from Lyon and looks to have restricted England to a low-scoring over until Stokes finds the boundary off the final delivery to move his personal tally into the 90s.
65th over ENG 209-5, lead by 217
Another boundary for Stokes as his partnership with Bairstow climbs to 48 from 48 deliveries.
64th over ENG 201-5, lead by 209
Stokes caps the over with back-to-back sixes off Lyons, two slog sweeps carrying England beyond 200 runs.
The hosts are picking up the pace now.
63rd over ENG 187-5, lead by 195
Another single each for the two men at the crease.
Worth noting that the Met Office have now upped the likelihood of rain around 17.00 to 40 per cent.
62nd over ENG 185-5, lead by 193
A run apiece for Stokes and Bairstow off the bowling of Lyon, who is still without a wicket and has conceded 81 runs from his 24 overs.
61st over ENG 183-5, lead by 191
Stokes adds three to take his own personal total to 64. He managed only 13 in the first innings.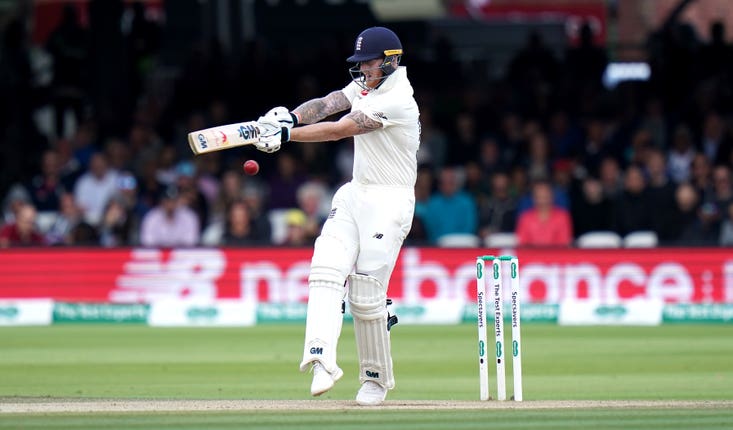 Australia found Ben Stokes difficult to shift on Sunday (John Walton/PA)
60th over ENG 180-5 , lead by 188
Bairstow hits Lyon over long on for six before surviving a big appeal for a catch down the leg side, when an attempted sweep finds the gloves of Tim Paine.
Australia are unable to review, but UltraEdge shows Bairstow did not actually make any contact with the ball.
59th over ENG 168-5, lead by 176
Bairstow adds a single to the one he scored in his opening over as England's wicket-keeper makes a steady start.
58th over ENG 165-5, lead by 173
Stokes survives a review for lbw, which took longer than usual due to an issue with the ball tracker, much to the amusement of the Australian players.
They were less amused when the big screens eventually showed that Lyon's delivery was missing leg stump.
Australia have no reviews remaining.
57th over ENG 161-5, lead by 169 runs
WICKET Buttler c Hazlewood b Cummins 31
Australia finally make the breakthrough with the final ball of the 57th over.
Buttler gets a top edge on a Cummins delivery and finds Hazlewood at long leg.
Stokes added three to the England total earlier in the over, taking the partnership to 90 – the best of the match.
Jonny Bairstow replaces Buttler at the crease.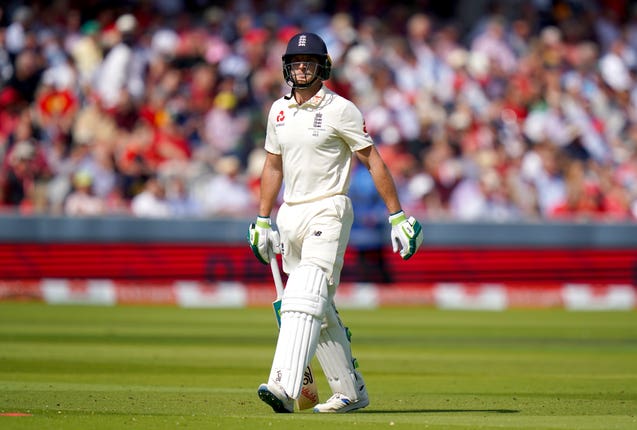 Jos Buttler's was the first wicket to fall on the final day (John Walton/PA)
56th over ENG 158-4, lead by 166 runs
Lyon's first over of the afternoon session passes at the expense of a single bye.
He has conceded 65 runs from his 21 overs so far and has yet to take a wicket.
55th over ENG 157-4, lead by 165 runs
And it's another maiden over from Cummins to kick off the session. That's his sixth of the innings.
Pat Cummins has bowled six maiden overs in this innings (John Walton/PA)
14.10 Players back out
After filling up on roast beef and Yorkshire pudding or pan-fried salmon fillet, the players re-emerge at Lord's.
14.00 Weather update
The earlier warning of a 30 per cent chance of rain at 18.00 has been brought forward by an hour to 17.00 by the Met Office.
13.50
54th over ENG 157-4, lead by 165
A run apiece for Stokes and Buttler in the final over before lunch, as England wrap up a frustrating opening session from an Australian perspective.
The partnership now stands at 86, with Stokes on 51 and Buttler on 31.
Play will resume in 40 minutes.
53rd over ENG 155-4, lead by 163
Four leg byes for Buttler mean a costly end to an otherwise stingy over from Siddle.
52nd over ENG 151-4, lead by 159
Stokes brings up his 50 off 106 balls with a single off Lyon's second delivery of the over.
Buttler then sends a drive through extra cover to add a boundary off the following ball.
Ben Stokes celebrates his 50 (John Walton/PA)
51st over ENG 145-4, lead by 153
Siddle concedes three to Stokes, including a single that appeared to come off the glove of the England man.
50th over ENG 142-4, lead by 150
Australia make a change and are now playing with a slip and a gully after Warner had previously been covering both positions.
A Buttler leg bye and a Stokes single add two to the England total off the bowling of Lyon.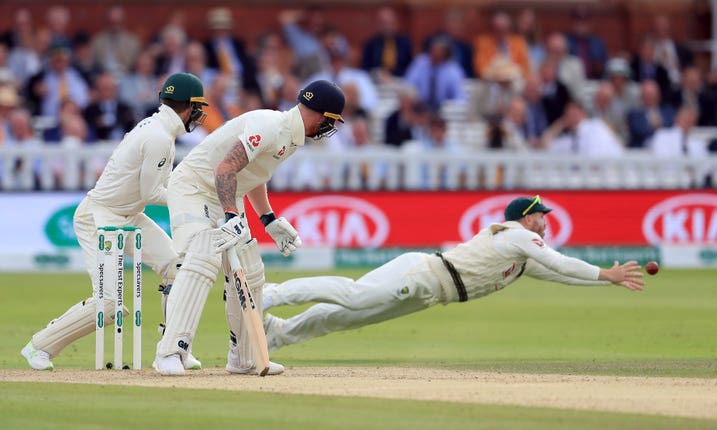 A Ben Stokes edge just evades David Warner (Mike Egerton/PA)
49th over ENG 140-4, lead by 148
Peter Siddle takes over from Hazlewood and makes a promising start, conceding no runs to Stokes, but the opening wicket of the day continues to elude Australia.
48th over ENG 140-4, lead by 148
Lyon was on course for a maiden over until a Stokes hit off the final ball gave the batsmen time to dash for three runs.
47th over ENG 137-4, lead by 145
Best over of the day so far from an England perspective, as they add nine.
Stokes hit the first delivery straight down the pitch towards the bowler's end and towards the boundary, before Buttler added a second with a thick edge through the gully.
46th over ENG 128-4, lead by 136
Buttler drives a Lyon toss for four as England take five off the first two deliveries of the over.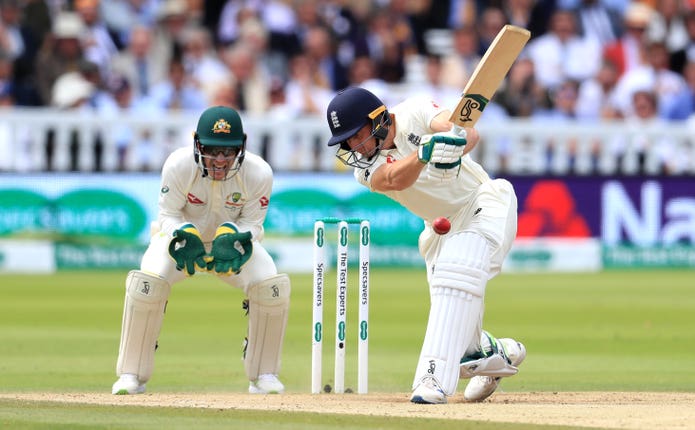 Jos Buttler in action on the final day (Mike Egerton/PA)
45th over ENG 123-4, lead by 131
Buttler adds two after Stokes pulls Hazlewood to square leg for a single from the opening ball, which brought up the 50 partnership off 143 balls.
44th over ENG 120-4, lead by 128
Another couple for Buttler, but Australia could do with a wicket soon to bring this final day to life and boost their hopes of snatching a result.
43rd over ENG 118-4, lead by 126
Buttler sends a length ball from Hazlewood to midwicket for another single.
42nd over ENG 117-4, lead by 125
Stokes adds a boundary by edging to third man, just out of David Warner's reach.
41st over ENG 113-4, lead by 121
Hazlewood takes over from Cummins, bowling from the Pavilion End.
Stokes survives a review off Hazlewood's first delivery after UltraEdge shows contact between bat and ball before his pad was struck.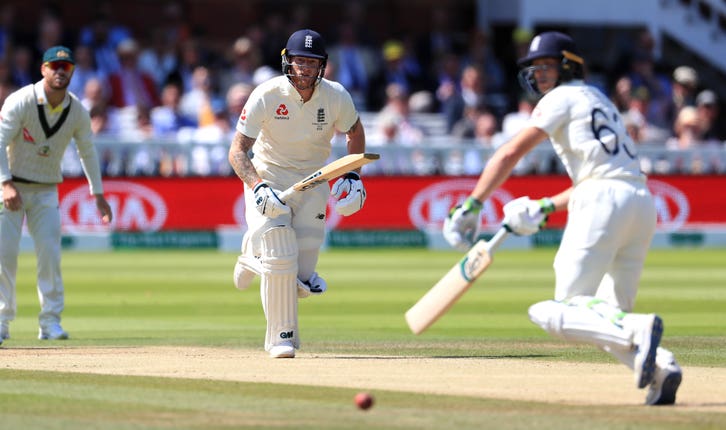 Ben Stokes survived a review for lbw (Mike Egerton/PA)
40th over ENG 112-4, lead by 120
Stokes adds one off Lyon's first delivery of the over.
39th over ENG 111-4, lead by 119
Cummins gets Buttler on the pads, prompting a big appeal that goes unrewarded.
But that's another maiden over from Cummins – his fifth of the innings.
38th over ENG 111-4, lead by 119
Stokes adds a four with a push just wide of mid-on that sent Josh Hazlewood on an unsuccessful pursuit of the ball as it rolled towards the boundary.
37th over ENG 107-4, lead by 115
Another maiden over for Cummins, this time bowling to Buttler.
36th over ENG 107-4, lead by 115
Buttler gets a single off Lyon as news of Smith's omission breaks.
Marnus Labuschagne has been confirmed as Smith's concussion replacement – the first such substitution in Test cricket.
Breaking news: Smith ruled out
Smith has been ruled out of the final day with delayed concussion, Cricket Australia has announced.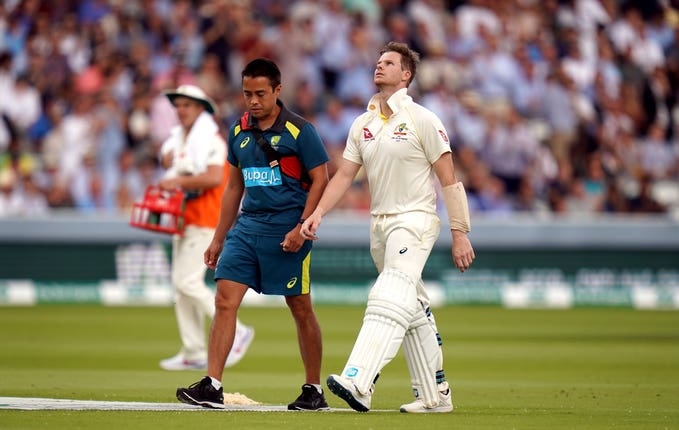 Steve Smith will not play on Sunday (John Walton/PA)
35th over ENG 106-4, lead by 114
Stokes hits Cummins for two boundaries, the first an edge that evaded the diving Usman Khawaja and the second struck straight through cover.
34th over ENG 98-4, lead by 106
England pick up their first runs of the day, with a single apiece for Buttler and Stokes off the bowling of Nathan Lyon.
33rd over ENG 96-4, lead by 104
Cummins finishes off the over he started on Saturday, conceding no runs to Ben Stokes as England stay 104 runs ahead.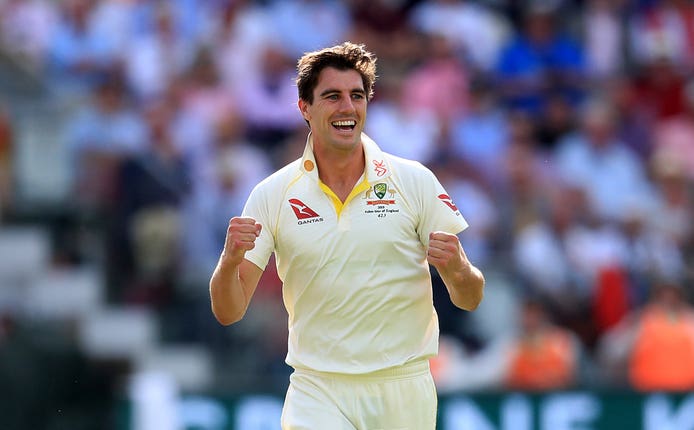 Pat Cummins opened the day by completing a maiden over (Mike Egerton/PA)
12.10 Smith absent
The players emerge for the start of play, but Smith is not among them after taking his blow to the neck from Archer on Saturday.
12.05
The earlier downpours have given way to sunshine at Lord's and there are no further showers forecast until around 18.00, when the Met Office says there is a 30 per cent chance of rain.
11.50 Start time confirmed
Following the 11.40 inspection, it has been confirmed that play will commence at 12.10, with lunch to be taken at 13.30.
11.40 ACA criticises booing of Smith
The Australian Cricketers' Association has criticised the small minority of fans at Lord's who booed Smith after he was felled by Archer's 92mph bouncer.
Smith was applauded warmly by most in attendance, both as he left the field for assessment and returned 40 minutes later, but there was a distasteful element who jeered, a common reaction since his return from a ball-tampering ban.
"The reality is that cricket can be a dangerous sport, especially when the bowling is as ferocious as it has been in this series. To see the (concussion) protocols practiced at Lord's overnight was important and correct," read an ACA statement.
"What was unwelcome and incorrect was the sound of booing of an injured player. Cricket deserves much better than that. And Lord's, the home of cricket, deserves much better than that also."
11.35 Inspection set to take place
The covers are being removed and an inspection will take place at 11.40 if the rain holds off.
11.30 Cummins describes 'scary' Smith moment
Pat Cummins has spoken to Sky Sports about the moment Smith went down after being struck by Archer's delivery on Saturday.
"It was scary," he said. "I obviously ran straight up to him, but probably 10 seconds later he looked OK.
"Sometimes with Steve you never know what his mannerisms are like, but the good thing is he came back and batted and he's feeling OK.
"He was fine, he didn't have any symptoms. He had a pretty sore arm as well, so it seems like there are a few things going on.
"But pretty brave – it was a quick spell that Jofra was bowling. That's what we expect from Steve. If he's fine, he wants to bat."
Steve Smith returned to bat after being assessed (John Walton/PA)
11.15 Gibson interested in succeeding Bayliss
Former England bowling coach Ottis Gibson has expressed an interested in taking over from Trevor Bayliss as head coach of the national team.
Gibson was released as head coach of South Africa earlier this month, while Bayliss is set to step down after the current Ashes series.
"Anything is possible," Gibson told BBC Radio Five Live's Sportsweek programme. "At the moment I'm just taking a little bit of downtime, spending some time with the family and see what develops after that.
"I live in England, so it's nice to come back home and just relax with the family for a bit, watch a bit of cricket, catch up with some of the guys.
"I'm still friendly with quite a lot of guys in the team, I was playing golf with them last week, so we'll see.
"Hopefully a conversation with (England director of cricket) Ashley Giles some time after the Ashes and then see what develops from there."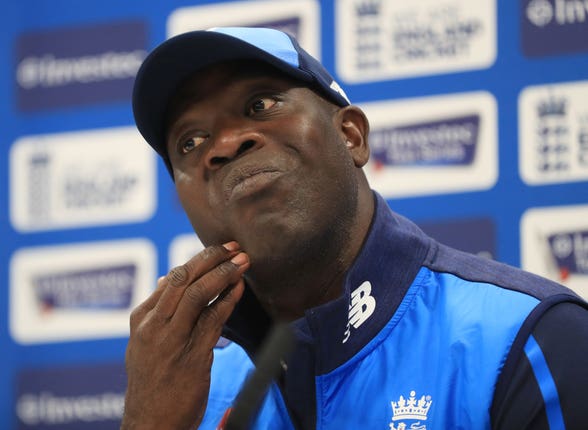 Ottis Gibson has an eye on coaching England (Adam Davy/PA)
11.00 No sign of play
Well, we've reached the scheduled start time without any indication yet that play is imminent.
Fingers crossed we don't lose too much time.
10.50
It has been a frustratingly familiar sight this week, but this is the current scene at Lord's as the rain continues to fall.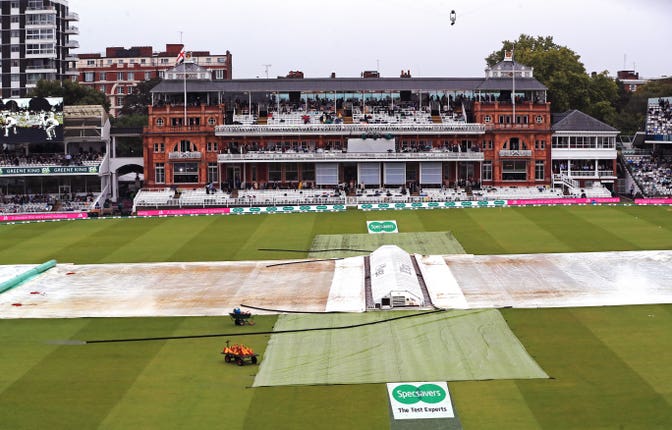 The covers are on at Lord's (Mike Egerton/PA)
10.40 Archer reflects on Smith blow
One of yesterday's biggest talking points came when Steve Smith was struck on the neck by a 92mph bouncer from Jofra Archer.
Smith was led from the field but returned just 40 minutes later after passing concussion tests, dismissed softly by Chris Woakes for 92 and looking understandably shaken.
"Honestly, I don't know what I was thinking at the time," Archer told Sky Sports on Sunday, before referencing  the death of Phillip Hughes after being struck in similar circumstances in 2014.
"Seeing someone go down… you don't ever want to see anyone getting carried off on a stretcher, or you don't want to see anyone missing the day or missing the game, you know? Especially what happened a few years ago as well. It's never a nice sight."
Steve Smith required treatment after taking a blow to the neck (John Walton/PA)
10.30 Raining again at Lord's
Heavy rain on day one and torrential downpours on Friday severely reduced the chances of a result in this Test, and another shower on Sunday morning increased the likelihood that we are heading towards a draw.
After losing four second-innings wickets, England may be willing to accept that outcome.
No news yet on whether we will have a delayed start, but it certainly looks likely.