Relive the final day of the fourth Ashes Test at Old Trafford
Australia retain the Ashes after a 185-run win in Manchester.
England v Australia
Australia retained the Ashes after 185-run win
The tourists took a 2-1 series lead
England were bowled out for 197 deep into the final session
Craig Overton and Jack Leach kept England's hopes alive
Pat Cummins claimed four wickets
England have not failed to win a home Ashes series since 2001
Ex-England captain Nasser Hussain told Sky Sports: "There has been progress. You can't fault the character and resilience of this England side. Other England sides would have just crumbled in a heap. They showed a lot of fighting character. But the problem is they often find themselves 10 for two, 20 for two. Against certain sides you can come back from that, but from nought for two last night against this Australian attack, you can't come back from that. Let's be honest, if England had gone to the Oval at 1-1, I think it would be a travesty. Australia have outplayed England, with Ben Stokes at Headingley keeping them in the series with a remarkable innings. If they had gone to the Oval 1-1, England could not have believed their luck. But they are not, they are 2-1 down."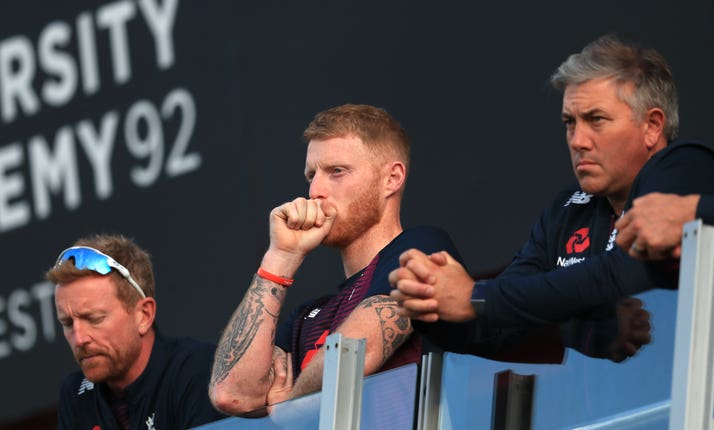 Ben Stokes could do nothing to stop Australia (Mike Egerton/PA)
Former Australia skipper Ricky Ponting told Sky Sports: "It was a good performance. They were the best team throughout the series, even before today. I think they should have had a bigger lead, not just on the back of Steve Smith. Everyone is talking about what impact he has had, but the whole bowling department has been absolutely outstanding. If you look at the difference in the bowling attacks in this game. Starc, Cummins, Hazlewood and Lyon, match that up with the England attack. There were more holes in that England attack than the Australia one. They were relentless in everything they did."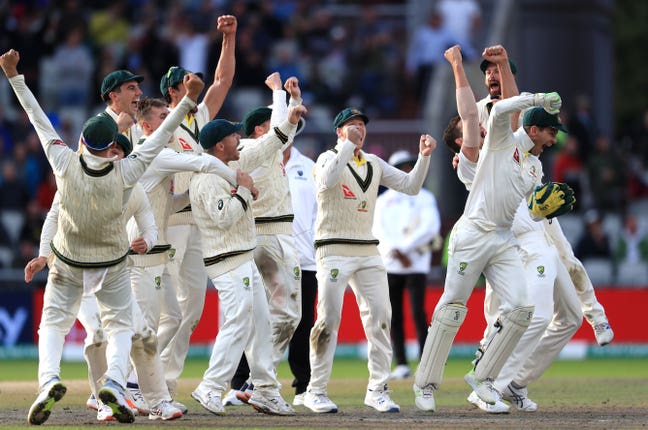 Australia took a 2-1 series lead (Mike Egerton/PA)
Australia captain Tim Paine said: "I'm pretty pumped. This team has been through a lot in the last 12-18 months. The character we've shown shows a lot about the quality of the people. It's been an unbelievable series, I've not had too much sleep. It's been intense. That's what you expect and prepare for."
England skipper Joe Root said: "I thought we showed great character today, couldn't be more proud of the effort. After last week we always believed, we fight right to the end. We tried our hardest. We had some fantastic support, it's bitterly disappointing."
Australia paceman Josh Hazlewood told Sky Sports: "It is fantastic. They made us fight the whole way. I thought the bowlers bowled exceptional all day. Credit to England, they stuck at it. It's a great feeling."
Australia batsman Steve Smith told Sky Sports: "It feels amazing. To know it's coming home. It was always one to tick off the bucket list, winning over here."
Marnus Labuschagne said: "Such a privilege to be a part of it. Test cricket is tough. It is a great occasion and it is hard to put into words."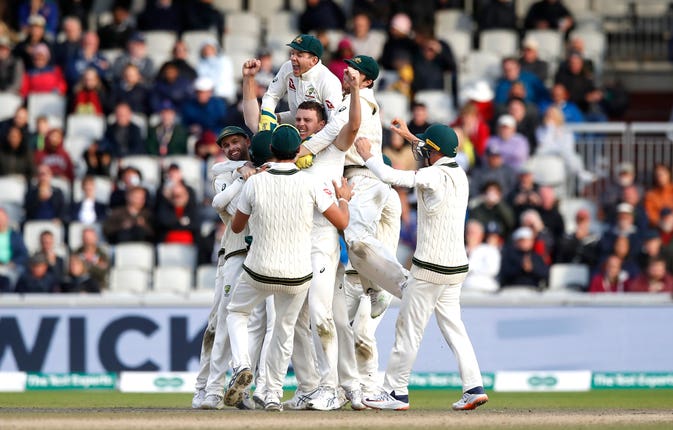 Australia retained the Ashes with victory (Martin Rickett/PA)
92nd over – Eng 197 all out – Australia win by 185 runs and retain the Ashes. Australia continue to mix things up and bring Josh Hazlewood on. The paceman traps Overton lbw and not even a review can save the right-hander. The Aussies go wild. They are 2-1 ahead in the series with one Test to play.
91st over – Eng 197/9 Starc's spell was just that one over as he makes way for Lyon. Overton turns a single behind square to give Broad the strike and he survives the final two balls of the over.
Marnus Labuschagne got rid of Jack Leach (Mike Egerton/PA)
90th over – Eng 196/9 WICKET Leach 12 c Wade b Labuschagne. Marnus Labuschagne replaces Lyon and strikes to remove Leach, who gloves to short-leg.
89th over – Eng 196/8 Left-armer Mitchell Starc is back with Australia hoping a change of angle will do the trick. Overton plays out a maiden.
88th over – Eng 196/8 Lyon beats Leach's edge but the batsman sees out the over, though he played at the final delivery when he could've left it. That quickened a few pulses!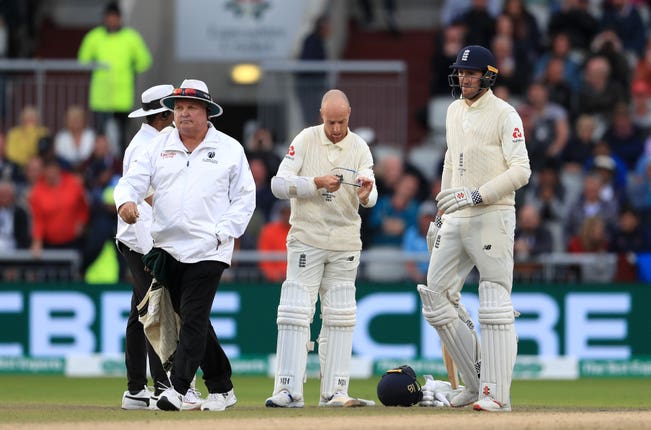 Jack Leach is at it again (Mike Egerton/PA)
87th over – Eng 196/8 A brief delay while Overton gets a new bat sent out. Cummins responds by sending the first delivery of his over into Overton's arm and the batsman takes a couple of seconds to recompose himself. The physios are waved away, though, and Overton survives the rest of the over, which includes a no ball.
86th over – Eng 195/8 Nathan Lyon takes the ball and there are seven fielders around the bat but Leach is unflustered and calmly plays out a maiden over.
85th over – Eng 195/8 Cummins goes short and catches Leach. That causes a delay while he sorts himself out and, of course, cleans his glasses. Cummins goes short again and has some words for Leach after the Somerset man ducked under it. Leach then takes a single off the fifth delivery as Cummins goes fuller. Overton blocks the final delivery. And we have 20 overs left. The crowd are really getting behind the England pair.
84th over – Eng 194/8 Josh Hazlewood is back. He's bowled brilliantly for his one for 28 so far. Leach digs out a yorker and then flicks Hazlewood away into the leg side for three. Overton gets bat to ball for the next three deliveries and it's 21 overs to go.
83rd over – Eng 191/8 Cummins beats the outside edge of Overton's bat with the penultimate ball of the over but it's another over survived for England. Australia still have 22 overs left to find these last two wickets, though.
82nd over – Eng 191/8 Starc continues with the new ball and Overton tucks him to leg for a single. Then there are huge cheers as Leach clips Starc for four to square leg. He celebrates at the end of the over by giving his specs a quick wipe.
81st over – Eng 186/8 Second new ball has been taken Pat Cummins has a loosener with the old ball and then takes the new cherry. Block, leave, leave, block, play and miss. Leach survives, with Cummins finally causing him some difficulties with the final delivery of the over.
80th over – Eng 186/8 Overton shows no sign of rustiness after Leach farmed the strike for a couple of overs. He sees off four Starc dot balls and then guides the fifth down to the the third man boundary for four.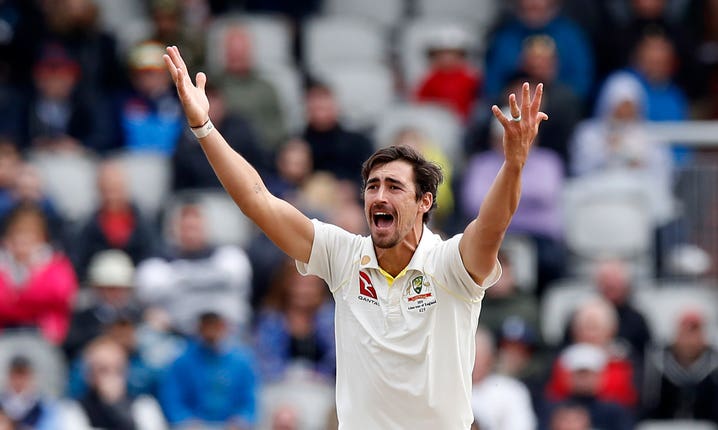 Mitchell Starc is looking for his second wicket (Martin Rickett/PA)
79th over – Eng 182/8 Leach sees off six more Lyon deliveries. The new ball is available in one over. Starc will bowl the 80th.
78th over – Eng 182/8 Mitchell Starc is back and beats Leach with one that came back in, but it's over the top of the stumps. Leach plays at two others but they beat his bat and go through to the wicketkeeper. He follows it with a drive to mid off for no run and a nice block before keeping the strike by scampering a single off the final delivery!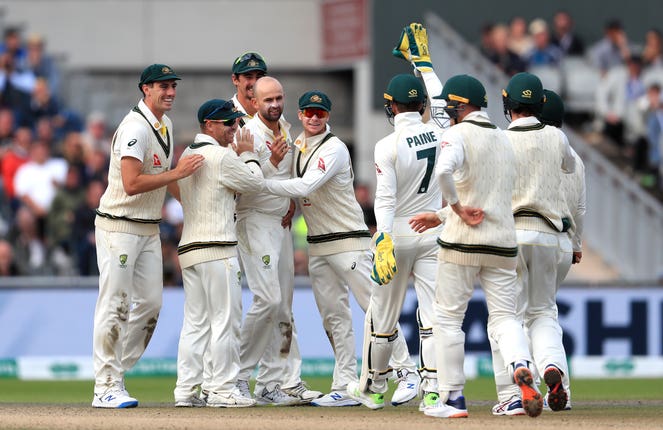 Nathan Lyon celebrates the wicket of Jofra Archer (Mike Egerton/PA)
77th over – Eng 181/8 Hazlewood delivers a terrific yorker that hits Overton in front. It's not given out and a review shows it was missing down the leg side. Four leg byes are signalled. Overton then gets an outside edge that doesn't carry to the slips. He then takes a single and Jack Leach takes three runs off the final ball of the over.
76th over – Eng 173/8 WICKET Archer 1 lbw Lyon Archer, after getting a couple of edges that didn't carry to leg slip, is then trapped lbw by one that kept low from Lyon. He didn't even bother reviewing. The Australians are getting the party started. Jack Leach is the number 10, promoted up the order ahead of Stuart Broad, and his block from the final delivery gets a big cheer.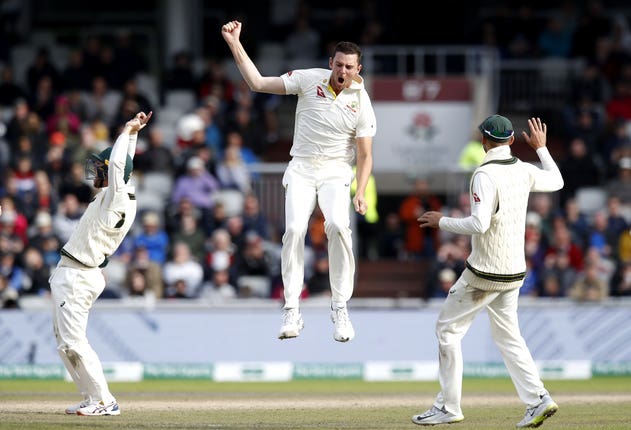 Josh Hazlewood celebrates the big wicket (Martin Rickett/PA)
75th over – Eng 173/7 WICKET Buttler b Hazlewood And that could be that. Jos Buttler shoulders arms to Hazlewood but it nips back and hits the top of off stump. The last of England's recognised batsmen is out and there are still over 30 overs to go. Jofra Archer then almost plays on to his own stumps but he gets off the mark with a single off the final ball.
74th over – Eng 171/6 Overton plays Lyon well and flicks one away to midwicket for a single. Buttler sees off the final two balls of the over. Five overs down of the session.
Josh Hazlewood is looking for the evening breakthrough (Mike Egerton/PA)
73rd over – Eng 170/6 Hazlewood gets one to kick up sharply off the turf. The variable bounce is not what the batsmen want to see. But Buttler sees out the over well for another maiden.
72nd over – Eng 170/6 Lyon's opening delivery keeps very low but Overton gets his bat on the ball. Overton keeps out the rest of the over for a maiden. There are eight overs until the second new ball is available.
71st over – Eng 170/6 Josh Hazlewood starts the session from the other end with Buttler on strike. Buttler makes it a century of deliveries faced when Hazlewood bowls one well down the leg side. The birthday boy then gets a thick edge on the last ball and it squirts away to third man for four.
70th over – Eng 166/6 Australia think they have a wicket immediately but the ball came off Overton's torso, not his bat, and it is not given out. Nathan Lyon's getting plenty of turn out there but Overton survives the over.
4.30pm Right then. One more session. It doesn't look like the Manchester weather will come to England's aid so the equation is 36 overs to survive with only four wickets left. Much depends on this partnership between Jos Buttler and Craig Overton if the Ashes are going to head to the Oval still up for grabs.
4.15pm England have taken the game into the final session. But there's still 36 overs to see off if they are to keep the series alive and the ball was doing a lot in the second half of the afternoon's play.
Afternoon session
35 overs
79 runs
Two wickets
69th over – Eng 166/6 TEA Labuschagne, after yet another bowling change, thinks he has Overton lbw but Erasmus keeps his finger down. Australia deliberate for a while over whether to review and they decide against. And that was the right choice as it was missing the stumps. Overton takes a single off the next ball and Buttler sees out the rest of the session.
68th over – Eng 164/6 Another maiden as Overton plays Lyon well. He's seen off 44 balls so far in a 15-inning partnership with Buttler.
67th over – Eng 164/6 Buttler confidently leaves one from Starc that comes back in and narrowly misses off stump and it's another maiden over.
Nathan Lyon is searching for a breakthrough (Mike Egerton/PA)
66th over – Eng 164/6 Overton keeps out one from Lyon which kept low and then is hit on the pads, but it was going well down leg side and the appeals are quickly turned down. A maiden over.
65th over – Eng 164/6 Mitchell Starc is back in the attack and is dispatched to the point boundary by Buttler, who moves to 29.
64th over – Eng 160/6 Overton drives Hazlewood through the covers for four as England take five from the over. The noise has risen at Old Trafford since that review.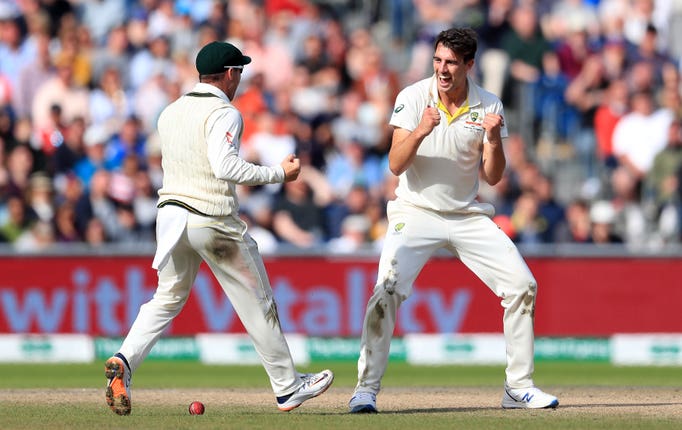 Pat Cummins celebrates what he thought was his five-wicket haul – but DRS saved Craig Overton (Mike Egerton/PA)
63rd over – Eng 155/6 Cummins thinks he has his five-for as Erasmus gives Overton out lbw. But the review shows the ball was striking him outside the line of off stump. Overton also looked like he hit it but the TV umpire somehow ruled that it was inconclusive. That would have been a controversial decision had the wicket stood! Overton then takes two off the final ball to big cheers in Manchester.
62nd over – Eng 153/6 Another bowling change for Australia as Josh Hazlewood returns. He's still wicketless in this innings. Overton gets off strike with a single to point and Buttler comfortably ducks a bouncer as he sees out the remaining four balls. Buttler has faced 80 deliveries so far.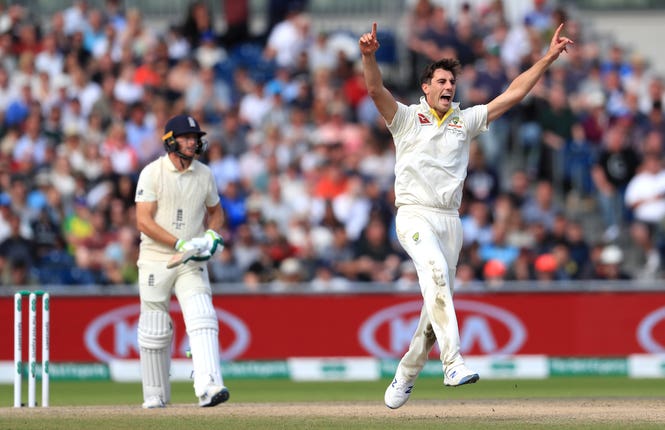 Pat Cummins unsuccessfully appeals for lbw (Mike Egerton/PA)
61st over – Eng 152/6 Buttler gets a thick edge wide of the slips for two. He then gets rapped on the pads but survives the lbw appeal. That was drifting down the leg side and Australia elect not to review. Cummins is really making the ball move at the moment. You'd expect his five-wicket haul to be completed soon.
60th over – Eng 150/6 Lyon beats Overton's bat but also his wicketkeeper and concedes four byes.
59th over – Eng 146/6 Cummins beats Buttler's outside edge on a couple of occasions but the England batsman survives the over.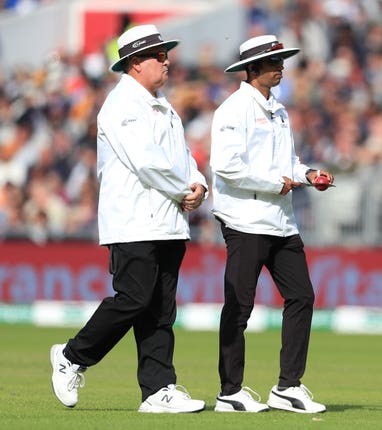 A new ball is brought out for Australia (Mike Egerton/PA)
58th over – Eng 146/6 The ball has been changed after being ruled to be out of shape and Lyon is bowling with it. Overton and Buttler have two singles each before the former survives a huge lbw appeal. Dharmasena is not interested at all and Tim Paine chooses against a review. It was pitching well outside of off.
57th over – Eng 142/6 Pat Cummins returns in search of his fifth wicket but he can't keep Overton on strike as the Somerset man takes a single off the first delivery. Buttler successfully sees off the rest of the over
56th over – Eng 141/6 Buttler takes a couple off Starc and then does well to keep out one which kept low.
Mitchell Starc took the key wicket of Jonny Bairstow (Martin Rickett/PA)
55th over – Eng 139/6 Lyon returns as Australia scent blood but Overton – with a slip, silly point and short leg for company – sees out the over. England have 50 overs to survive with just four wickets and one recognised batsman left.
54th over – Eng 139/6 WICKET Bairstow 25 lbw Starc The first ball after drinks does for Bairstow, who is given out lbw to the returning Mitchell Starc. It looked high but was given out on the field and the review showed it was just clipping the top of leg. His 45-run partnership with Buttler is over and Australia are into the tail with over 51 overs remaining. Craig Overton gets off the mark by edging through the slips.
53rd over – Eng 138/5 Turns out Labuschagne was just changing ends. He has nine wickets in his Test career so far. Buttler flicks one to leg for a single and Bairstow then benefits from a misfield at midwicket to score three. And that's drinks!
52nd over – Eng 134/5 Labuschagne is taken off after just one over and replaced by fellow part-time spinner Travis Head. Head has 41 first-class wickets but hasn't taken one in the Test arena. His first over here is a tidy maiden.
51st over – Eng 134/5 Bairstow takes a single from Starc's next over to move to 22.
Jos Buttler in action in the afternoon session (Martin Rickett/PA)
50th over – Eng 133/5 Lyon's spell is over but Australia stick with spin as Marnus Labuschagne takes the ball. Bairstow welcomes him by taking a single into the off side. Two more singles come from the over.
49th over – Eng 130/5 Mitchell Starc returns to the attack while Yorkshire's Jonny Bairstow has his name sung by the Barmy Army at the home of Lancashire. And Bairstow responds by safely seeing off five balls and then flicking the last delivery – the 50th one he has faced – through the leg side for three runs.
48th over – Eng 127/5 Bairstow half-volleys Lyon to the long off boundary for four and Buttler also finds the boundary in the over, using his wrists nicely to flick through midwicket.
47th over – Eng 118/5 Hazlewood concedes the first run of the spell as Bairstow flicks the fifth delivery of his second over wide of mid off for one. Cummins eventually fields it with a nice bit of footwork.
England's remaining batsmen
Bairstow
Buttler
Overton
Archer
Broad
Leach
46th over – Eng 117/5 Bairstow pushes into the off side to take a run off Lyon and it's the only run of the over. Just the 59 more overs to see off for England.
45th over – Eng 116/5 Cummins gets a rest as Josh Hazlewood returns, but Buttler sees off a maiden over with few issues.
44th over – Eng 116/5 Lyon concedes a single to Bairstow before Buttler drives him through the covers and picks up three. They both pick up another single each and run a bye before Buttler takes another single from the last delivery to reach 12. An expensive over for Lyon, but runs aren't an issue for them.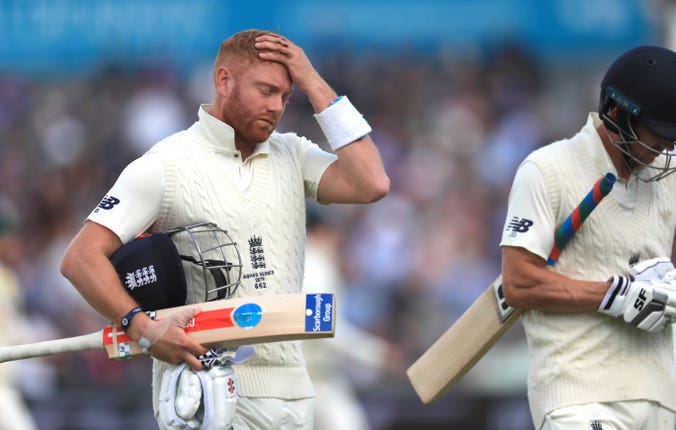 A lot rests on Jonny Bairstow if England are to save the Test (Mike Egerton/PA)
43rd over – Eng 108/5 Bairstow's controlled edge to backward point lets him pick up a couple and he grabs another run by flicking off his hip to long leg. Cumming keeps his line tight but Buttler is able to see out the rest of the over.
42nd over – Eng 105/5 Bairstow takes a single off Lyon's opening delivery. The spinner is getting quite a bit of turn now but Buttler is able to survive the rest of the over.
41st over – Eng 104/5 Buttler gets a thick outside edge to Cummins and the ball squirts away through third man for four. He then takes a couple after hitting to midwicket and England have reached 100. Cummins then fires in a bouncer that rises rapidly and right over the head of Tim Paine for four byes.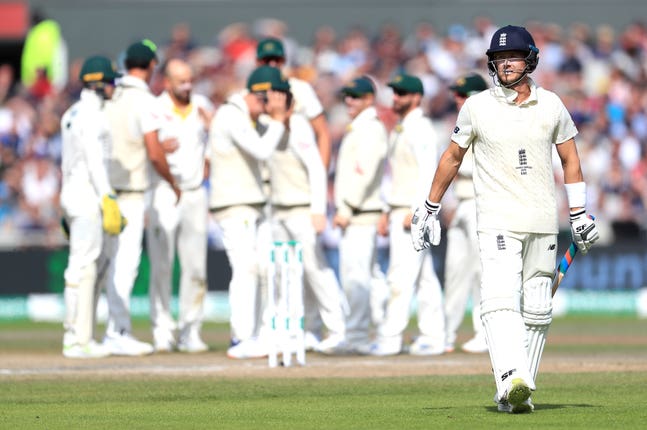 Joe Denly walks off after being dismissed (Mike Egerton/PA)
40th over – Eng 94/5 WICKET Denly 52 c Labuschagne b Lyon But that was exactly what the hosts did not need. Lyon has his first wicket. He gets bounce off his delivery and Denly can only glove it to short leg, where Marnus Labuschagne takes a fine catch. Lyon has suddenly found his form but birthday boy Jos Buttler survives the rest of the over and takes a single from the final ball.
39th over – Eng 92/4 And Denly comfortably sees off a Cummins over. England could do with a few more of these.
38th over – Eng 92/4 A maiden from Lyon as Bairstow sees him off with little alarm.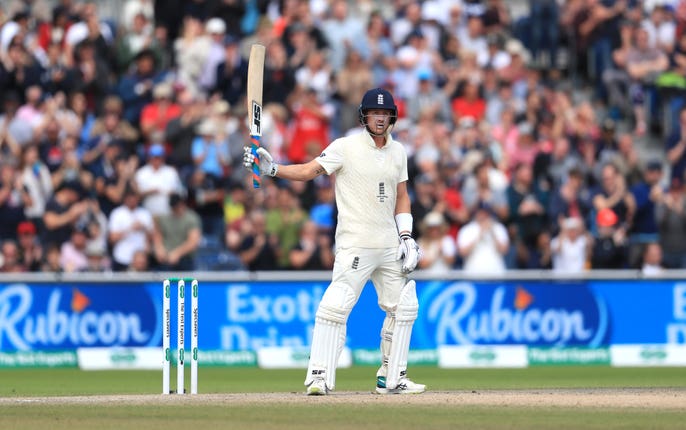 Joe Denly celebrates reaching his half-century (Mike Egerton/PA)
37th over – Eng 92/4 That's fifty for Joe Denly! The opener moves to his third Test half-century from 112 balls with a fine punch down the ground for four off Cummins. He may not save the Test but he could be saving his place in the Test team going forward. He then wears a short Cumming delivery on his upper arm before nearly edging one on to his own stumps.
36th over – Eng 88/4 Pace from one end, spin from the other. Nathan Lyon continues his search for a wicket. Denly came down the wicket to his second delivery but he picked out the fielder at fine leg and couldn't get a run. Two deliveries later he manages to get one away and moves to 49.
35th over – Eng 87/4 It's that man Pat Cummins to start things off and he bangs one into Jonny Bairstow's midriff with his first delivery. It's a maiden to start the afternoon session. England just need 70 more overs like that to avoid defeat!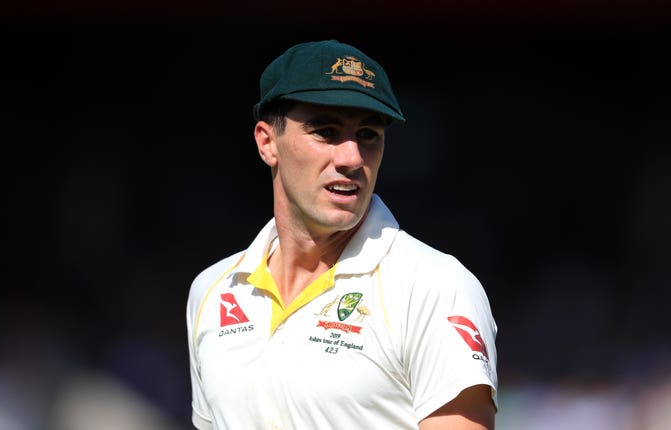 Pat Cummins is one wicket away from his first Ashes five-wicket haul (Mike Egerton/PA)
1.35pm Are we all ready to go again? Australia will be hoping this afternoon session will be the one that secures the urn.
1.05pm England made a good start to the session but the loss of Ben Stokes swings the balance firmly in Australia's favour. There are still 71 overs to see out and Australia need just six wickets to retain the Ashes. Pat Cummins has been their star once again, picking up all four wickets in the innings so far.
Morning session
27 overs
69 runs
2 wickets
34th over – Eng 87/4 LUNCH Hazlewood takes his time getting through his over, which Denly safely sees off, and that's the end of the morning session.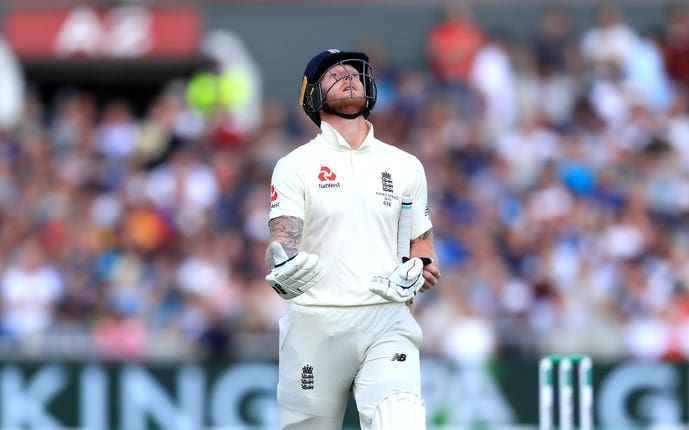 It wasn't to be for Ben Stokes this time (Mike Egerton/PA)
33rd over – Eng 87/4 Cummins, chasing his fifth wicket, oversteps his mark for a no-ball and then Bairstow gets off and running with a flick off his hip for a couple. England have a couple of overs at most to see off before lunch.
32nd over – Eng 84/4 Josh Hazlewood replaces Lyon, who went wicketless in his nine-over spell. Denly whips Hazlewood away for a couple of runs into the leg side. Australia then think they've got Denly caught behind but it came off the batsman's pad and the umpire is unmoved. Denly then drives through the covers for four from the next delivery to move to 48.
31st over – Eng 78/4 WICKET! Stokes 1 c Paine b Cumming There will be no heroics from Stokes today. He gets a tickle on a Cummins delivery when trying to leave it and walks off before the umpire can make a decision. A huge moment. New batsman Jonny Bairstow is then hit on the thigh and the ball flies through the slips for four leg byes. Australia appeal for lbw but it was too high. Thy elect against the review.
30th over – Eng 74/3 Stokes is off the mark! He sees off five more Lyon dot balls before pushing the final delivery into the leg side to keep the strike.
29th over – Eng 73/3 Back-to-back maidens as Denly sees off six deliveries from Cummins. It may not be exciting, but it's exactly what England need right now.
28th over – Eng 73/3 Stokes defends well to see off a maiden over from Lyon.
Pat Cummins celebrates the breakthrough (Martin Rickett/PA)
27th over – Eng 73/3 Cummins is looking dangerous and he gets another to nip back and it hits Denly in his stomach. Denly then tickles one safely past a diving third slip and down to third man for four. Then he guides another one in a similar area for two. England have 30 minutes to survive until lunch.
26th over – Eng 67/3 Denly gets an inside edge on to his pad but it flies up and over the head of the wicketkeeper to safety. Denly then takes a single to bring Stokes on strike for the first time. He blocks out the rest of the over.
25th over – Eng 66/3 WICKET! Roy 31 b Cummins Cummins is back on in place of Starc and gets the breakthrough as he bowls Jason Roy with an inswinger. It's Roy's biggest score of the series but he'd have been wanting more having made a solid start. Here comes Headingley hero Ben Stokes.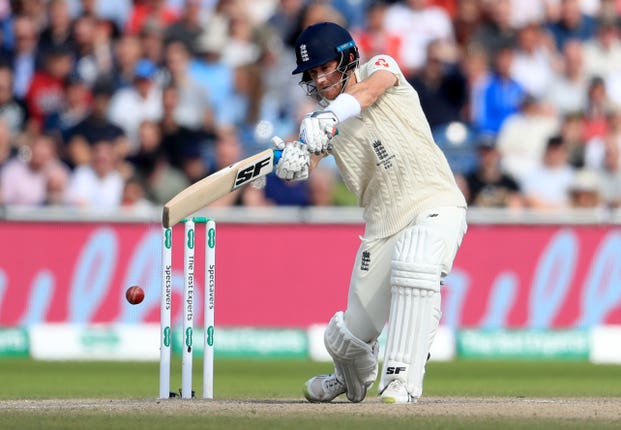 Joe Denly scores into the off side (Mike Egerton/PA)
24th over – Eng 65/2 An enthusiastic appeal from Lyon for lbw but they have little interest in reviewing it. This one was pitching outside the line of off and then missing leg. Denly then picks up two by pushing the spinner through midwicket. Another appeal is given little consideration from Kumar Dharmasena before Denly and Roy set off for a risky single but Cummins misfields at mid on and then overthrows to give England another couple of runs.
23rd over – Eng 60/2 A yorker from Starc is just a bit wide of the stumps before Roy drives him down the ground and picks up two after mid off can't gather the ball at the first attempt. Roy's into the 30s for the first time in the series.
22nd over – Eng 58/2 Lyon is interested in an lbw shout against Roy but Australia choose against reviewing it after it is turned down. And with good reason as it was hitting outside the line. Two singles come from the over for England.
21st over – Eng 56/2 Roy matches his highest score of the series of 28 as he drives Starc through the covers for four. A fine shot. And that's drinks!
20th over – Eng 51/2 Roy pushes Lyon through the covers for two and brings up the fifty partnership.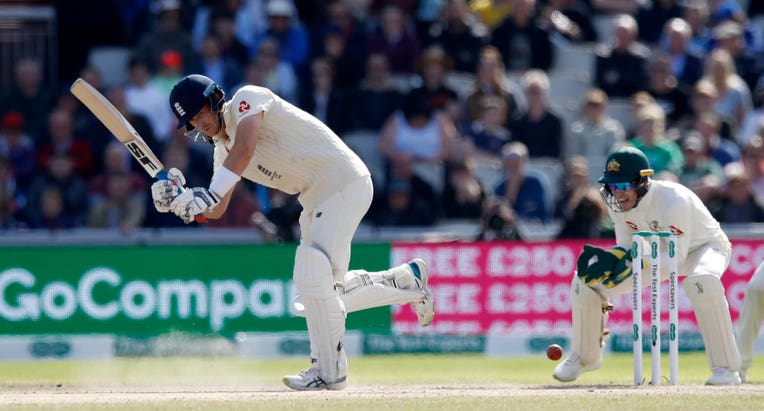 Joe Denly flicks one into the leg side (Martin Rickett/PA)
19th over – Eng 49/2 Starc deceives Denly with a bouncer first up but the ball, which appeared to cannon off the England opener's gloves, lands safely short of backward point. Denly then tries to drive a wide one but picks out the man at cover on the bounce. He gets the next one through, though, and picks up three runs as Lyon stops the boundary. Roy takes a quick single off the last ball to move to 22.
18th over – Eng 45/2 Denly comes down the pitch to Lyon and just about gets enough on the ball to scamper a single. Roy then gets an inside edge that flies over short leg's head and to safety. It earns him a single before Denly's sweep is almost caught at deep midwicket. More encouragement for the visitors but England survive.
17th over – Eng 42/2 Denly moves on to 22 with a flick to long leg off Starc and then Roy beats the fielder coming round from mid on for four.
Joe Denly in action on day five (Martin Rickett/PA)
16th over – Eng 37/2 Here's Lyon. He's wicketless in this match so far but he was the match-winner at Edgbaston with six second-innings wickets. He'll have a huge role today. But his first over costs five runs after Denly sweeps well for four and then for a single.
15th over – Eng 32/2 A bowling change for Australia but it's not Lyon yet. Mitchell Starc bowls his first over of the day and is immediately clipped away to square leg by Roy, who takes another single. Denly then gets a huge slice of luck as he swings at a wide one and edges over the top of third slip for four. That will give Australia plenty of encouragement. Denly then looks much more assured with a single into the off side from the final ball of the over.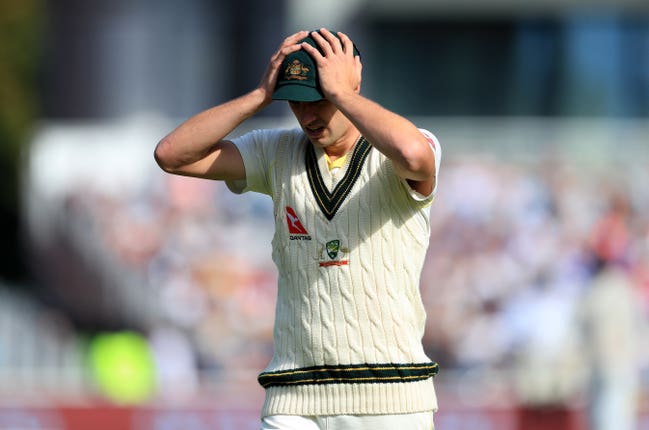 Pat Cummins could not take a wicket with his opening spell (Mike Egerton/PA)
14th over – Eng 26/2 Hazlewood gets one to keep low but Roy manages to dig it out. Roy then flicks one off his hip for a single and moves to 15.
13th over – Eng 25/2 A Cummins inswinger beats Roy but misses the inside of the bat and off stump. Roy then gets his sixth run of the morning by pushing into the leg side.
12th over – Eng 24/2 Roy clips one into the leg side for a single in an otherwise uneventful Hazlewood over. Australia will surely be thinking about bringing on spinner Nathan Lyon soon.
England fans watching from a balcony (Mike Egerton/PA)
11th over – Eng 23/2 Denly is early on a drive and the ball bounces just short of mid off. He's then rapped on the pads by Cummins and the Australians call for lbw, but umpire Marais Erasmus isn't interested. That one was comfortably missing leg. Australia have had some early encouragement but are still awaiting their first wicket.
10th over – Eng 23/2 Hazlewood beats Denly but again the ball misses the edge. Denly then grabs his first run of the day with a single to cover. England have taken five runs from the opening three overs.
Ninth over – Eng 22/2 Jason Roy is beaten by Pat Cummins' second delivery but it avoids the edge and flies straight through to the wicketkeeper. And Roy responds by flicking the next ball through midwicket for four.
Eighth over – Eng 18/2 A maiden over! Josh Hazlewood starts off for Australia with Jason Denly on strike. A big cheer welcomes the first block from the England opener, before Hazlewood has a half-hearted lbw appeal turned down. It was heading well down leg side. One over down, 97 to go..
10.55am We're five minutes away from the start of play. How England could do with Steve Smith in their battling line-up today…
10.45am The Manchester weather won't be helping England today, so we're set for an uninterrupted 98 overs. It's a big day for Australia, who can retain the Ashes on English soil for the first time since 2001. They can't win the series today, but a 2-1 lead with one Test to play will be enough to keep hold of the urn.
10.35am England's hopes of batting through the day will be that much more difficult considering Joe Root and Rory Burns – the two highest scorers in the first innings – were both dismissed for ducks by Pat Cummins last night. Joe Denly and Jason Roy, neither of which have had a series to remember, will start the day in the middle.
10.30am England are left needing another miraculous recovery if they are to keep alive their hopes of regaining the Ashes. The hosts head into the final day at Old Trafford 18 for two, needing another 365 runs to pull off their highest Test run chase.
Their record run chase? That happened to come at Headingley two weeks ago as Ben Stokes' heroics dragged them to victory. Surely lightning can't strike twice? England would settle for just surviving the day and setting up a winner-takes-all fifth Test at the Oval.