England v Australia: England level Ashes after incredible Ben Stokes innings
Ben Stokes guides England to sensational victory at Headingley.
Highlights
England win third Test and level the series 1-1.
Ben Stokes scores 135*
Jack Leach at 11 fends off Australian attack.
17.01 ENGLAND LEVEL ASHES SERIES
England will arrive at Old Trafford in Manchester tied in the series, with all of the momentum.
Ben Stokes' 135* will rightly go down in history as one of the great innings, but Jack Leach deserves recognition as well.
Good evening.
16.55 ENGLAND LEVEL ASHES SERIES
Former England players have taken to social media to heap praise upon England's heroes.
16.47 ENGLAND LEVEL ASHES SERIES
Jack Leach reckons that's the greatest score of one not out he will ever make, and it's hard to disagree with him.
Geoffrey Boycott has described today as the best cricket moment he has seen in over 50 years.
16.37 ENGLAND LEVEL ASHES SERIES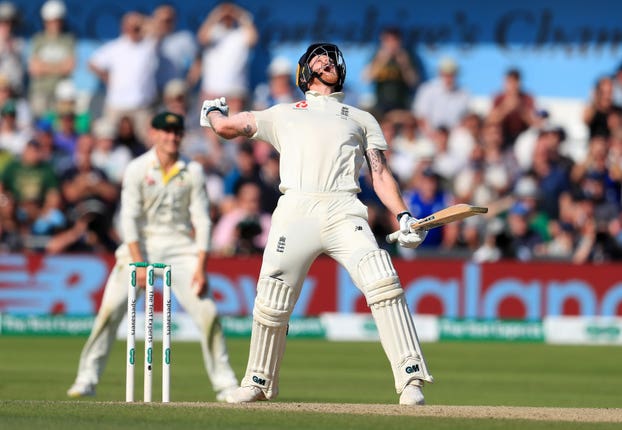 Asked by Jonathan Agnew on Test Match Special what he had just done, Ben Stokes replied: "I don't know."
16.36 ENGLAND LEVEL ASHES SERIES
16.32 ENGLAND LEVEL ASHES SERIES
Ben Stokes is getting all the plaudits, his knock described by former Australia quick Jason Gillespie as "one of the best knocks of all time in Test Cricket."
16.27 ENGLAND LEVEL ASHES SERIES
England have levelled the series at 1-1 with two matches to go. Having been bowled out for 67 in the first innings, they have chased 359 to win.
ENGLAND WIN: England have won a quite extraordinary Test match here. Ben Stokes smacks the ball through the covers and England have chased down a mammoth total, nobody can quite believe what they've just seen.
125th over England 357-9
Ben Stokes hits a six! England are just two runs from a famous win, but it's carnage in the final couple of deliveries.
Australia miss an easy run-out opportunity and then Stokes is trapped LBW, but the umpire hasn't given it. Australia have no reviews left and England survive.
124th over England 351-9
Stokes brings more runs but leaves Leach on strike. Australia go for a review off the last ball of the over but it's not out. England need eight runs to win.
123rd over England 342-9
Far more conservative from Stokes, who finds a single and Leach again sees off the final ball of the over. England require 17 runs to win.
122nd over England 341-9
BEN STOKES REACHES 100: A quite remarkable century from Ben Stokes, who finds the boundary rope but has another goal in mind.
Another six. And another one. Stokes has gone into one-day mode and the atmosphere at Headingley is unlike anything this country has seen since 2005.
How does Ben Stokes do it? Pat Cummins is helpless as England's World Cup hero again finds the boundary for six, and Jack Leach is able to fend off the final ball of the over.
Stokes is on 96, Leach stays on nought.
120th over England 311-9
Stokes thinks he's got the ball away for two, but it goes for a single instead. Jack Leach sees out the rest of the over.
119th over England 310-9
Six from Stokes! England cross the 300 mark with another maximum off the bowling of Lyon. And another! A reverse sweep takes Stokes to 83. He adds a single, keeps the strike, and the fans can't get enough of it.
If Stokes wins this game for England there will be books written about his summer. The home fans enjoy a wide and Stokes moves to 71.
117th over England 293-9
Stokes is not going to die wondering, and wallops the spin of Lyon into the stands for six.
116th over England 286-9
WICKET: As reviews go, this one from Stuart Broad is probably best described as optimistic. Broad is eventually confirmed out LBW off the bowling of Pattinson, and Australia are one wicket from retaining the Ashes.
115th over England 286-8
Stokes takes a single and Archer is exposed to the strike. Far from shying away from Lyon, the England batsman takes him on and hits back-to-back fours!
WICKET: Well, Archer has lived by the sword and died by the sword there. He's caught off the final ball of the over, and that could be your lot.
114th over England 277-7
Nothing doing and still some time to go before tea. Australia continue to plug away.
113rd over England 277-7
England add six runs and move ever closer to that distant total, and that's drinks. How long can these two last? How long do they need to last?
112th over England 271-7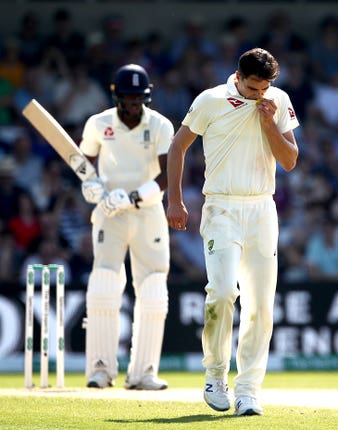 Archer has a swing and a miss, and no runs are added in the 112th over.
111th over England 271-7
Archer has helped himself to four of the finest runs off Pat Cummins' bowling, and here come the overthrows! Just what England needed.
110th over England 266-7
James Pattinson comes into the attack for Australia and Archer is finally off the mark. England end their run drought with a handful of welcome runs.
109th over England 262-7
Archer sees off the bowling of Lyon, and once again there is a tweet from the fast bowler's archive which suits the situation.
108th over England 262-7
A touch of confusion between the batsmen and another hairy moment out there in the middle. The runs have dried up.
107th over England 262-7
Former England wicketkeeper Matt Prior makes his feelings clear on Twitter. Have England thrown this away?
Archer could make himself the most popular man in the country with a winning contribution here.
106th over England 261-7
WICKET: Woakes chips one up in the air and is caught by Matthew Wade. In comes Jofra Archer with England's hopes of a historic run chase in tatters.
105th over England 261-6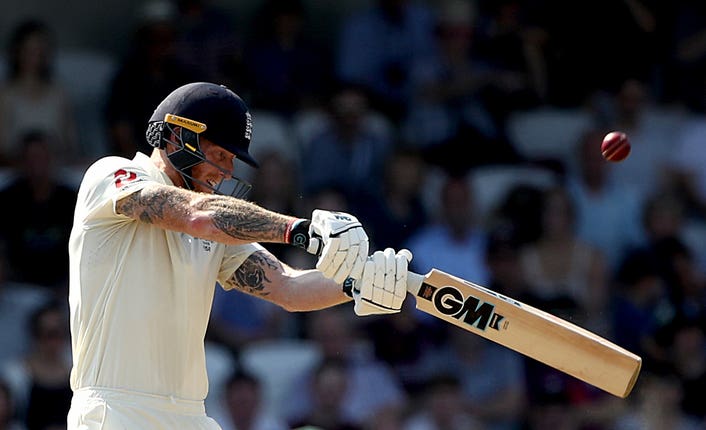 BEN STOKES REACHES 50: England's World Cup hero goes to his half century off the bowling of Nathan Lyon.
104th over England 259-6
Is there any hope left for England? This pair will be crucial if so.
Stokes reaches 49 and England need 100 to win.
103rd over England 257-6
WICKET: Jos Buttler (1) is run out by Travis Head after a Ben Stokes nudge. Former England captain Alastair Cook has described it as "an absolute disaster".
Stokes responds with a boundary as Chris Woakes joins him at the crease.
102nd over England 253-5
A Stokes four brings the crowd to their feet once more as England cross the 250 mark, while Buttler is beaten by a delivery from Josh Hazlewood.
101st over England 248-5
Jos Buttler gets off the mark with a single, as England continues to chip away at the deficit.
100th over England 245-4
WICKET: Bairstow (36) chases a wide ball from Hazlewood and is caught by Marnus Labuschagne at second slip.
The dismissal brings Jos Buttler to the crease. No further runs scored off the over.
99th over England 241-4
Stokes hits a four off the final ball of Lyon's over.
98th over England 239-4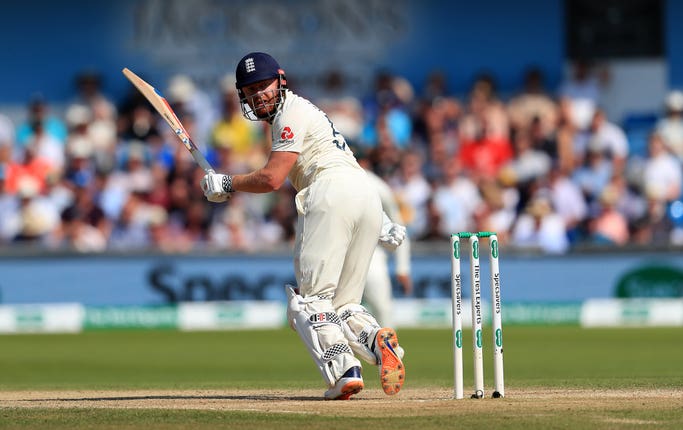 Bairstow survived a close call (Mike Egerton/PA)
Hazlewood comes back into the attack and appears to have taken the wicket of Bairstow. The Yorkshire batsman calls for a review which is upheld.

97th over England 238-4
A Bairstow single off Lyon's fifth ball of the over takes England to 239.
Morning round-up
England began the day needing 203 to win, and the day began with James Pattinson and Josh Hazlewood sending down four consecutive maiden overs between them. Joe Root added two to his overnight total before he was out to Nathan Lyon with David Warner taking a superb catch.